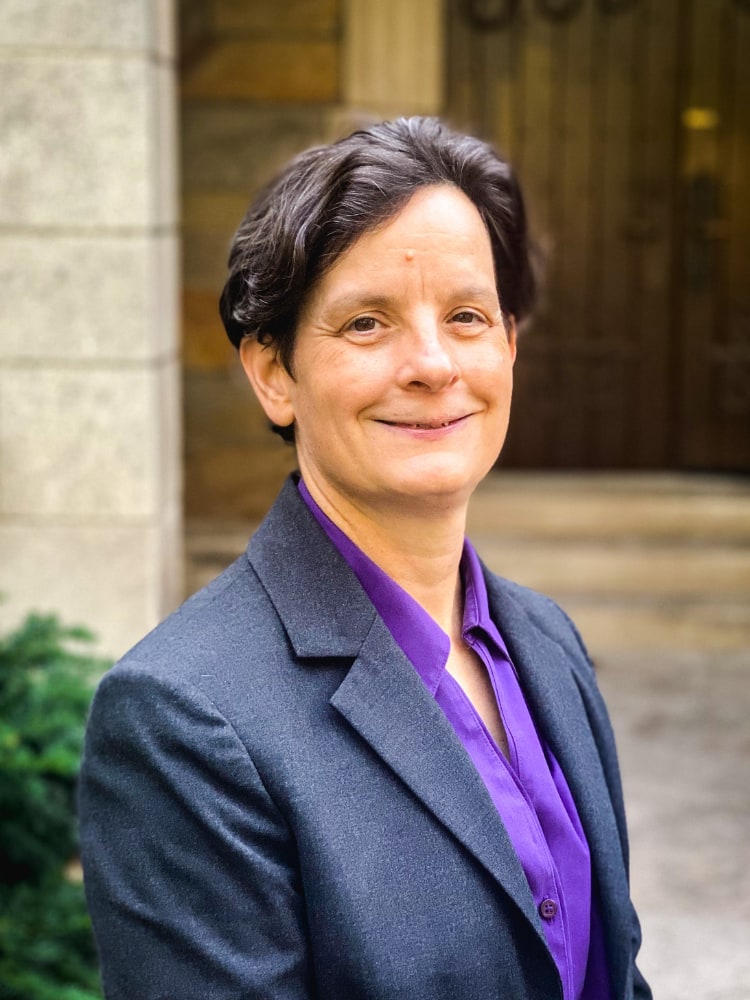 Charlotte Croson concentrates her practice on employment law and civil rights violations. As a Marine Corps veteran, Charlotte has a special affinity for helping vets and Federal employees vindicate their rights, and Charlotte has "written the book" for Federal employees in Michigan. Charlotte is dedicated to helping Michigan employees who have been harmed in their employment and citizens who have been denied their civil rights. And Charlotte is committed to protecting sex-based civil rights for women and girls in education, athletics, housing, and employment.
Legal Experience
Charlotte's experience includes claims involving constitutional violations, including infringement of free speech and due process rights, whistleblowing and retaliation, family medical leave, wage and hour laws, and discrimination and harassment because of sex, sexual orientation, race, age, disability, national origin, weight, and pregnancy. Charlotte also defends her clients against contract claims, including non-compete agreements, negotiates severance agreements, and advises her clients of their rights and remedies under workplace safety and reporting laws and regulations. Charlotte's clients span the spectrum from highly compensated executives, to middle managers, to State and Federal employees, to hourly wage-earners.
Charlotte also has a robust appellate practice, representing clients seeking to protect a jury verdict or overturn a wrongful dismissal of their claims. Charlotte has litigated, negotiated, and settled a wide variety of claims for disparate clients and will always give you straightforward legal advice and an honest assessment of your situation.
Law Career & Education
Prior to founding Croson, Taub, & Michaels, PLLC, Charlotte was a Senior Attorney at Nacht Law and a partner at Bogas, Koncius, & Croson, P.C. She began her legal career as judicial clerk to the Honorable Pamela R. Harwood, Wayne County Circuit Court, and elbow law clerk to the Honorable Marianne O. Battani, United States District Court for the Eastern District of Michigan.
Charlotte is admitted to the State Bars of Michigan and Maryland.
Charlotte is a graduate of Goucher College (with honors) and the University of Michigan Law School, and a member of Phi Beta Kappa.
Honors, Memberships, Publications, Service
Charlotte is a "Super Lawyer" in Employment Law and has presented at the State Bar Labor and Employment Section on the topics of FMLA, ADA, and whistleblower protections and to the National Employment Lawyers' Association on the topic of sexual harassment law.
Charlotte is a member of the National Employment Lawyers Association; Women Lawyers Association of Michigan; Michigan Association for Justice (Amicus Committee); Michigan Employment Lawyers Association (Appellate Committee); and the State Bar of Michigan Diversity and Inclusion Committee.
Charlotte served as Treasurer of the Washtenaw County Women Lawyers Association (2017-2019).  She is currently the co-chair of the LGBTQ Section of the Washtenaw County Bar Association and has given multiple presentations on LGBTQ rights in employment law.
Charlotte has authored briefs to, and argued before, the Michigan Court of Appeals and the Sixth Circuit Court of Appeals on significant civil rights issues and has authored a Petition for Writ of Certiorari to the United States Supreme Court defending governmental employees' rights to free speech.
Charlotte has also authored and co-authored amicus curiae briefs to the Michigan Supreme Court on issues critical to the development of Michigan employment law, including the proper venue for civil rights actions and statutory interpretation of the Whistleblowers' Protection Act.
Charlotte's publications include Employment Litigation in Michigan: "Federal Employees and Federal Contractors and Subcontractors"; Whitman v. City of Burton, MI Supreme Court No. 143475 (Amicus Brief); Age Discrimination in Employment Law 2011 Cumulative Supplement; ADEA Developments After Gross; "Sexual Orientation Discrimination Laws Don't Need To Wait Another 35 Years"; "Family Responsibilities Discrimination"; "Is a Conflict Emerging in Civil Rights Law"; and Bostock v. Clayton County, Is the Price too High.
Charlotte has volunteered at SafeHouse, Washtenaw County, the Washtenaw Food Policy Council, and the National Lawyers Guild as a Legal Observer.